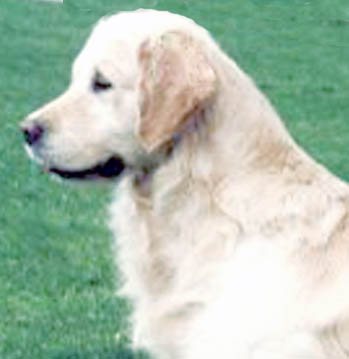 Sometimes being a long-time breeder is a heartbreak. In the past year we have lost so many dogs that it has been overwhelming for us. It is therefore it has taken months to be able to write about the latest one to leave; that being our beloved Bandit… It has just been too hard to express our "official" goodbye; to the gentlest and kindest dog we have ever known.
Bandit was part of our breeding program and our kennel for the first almost 9 years of his life. More than that; he was an integral part of our lives, with his sunny and kind personality. A keen working retriever, he was also naturally considerate. He was therefore the dog that over the years had the prime responsibility of meeting all our visitors. Bandit made everyone feel welcome – and so he was affectingly called our Welcome Wagon. He intuitively knew how to make all people and all dogs, male and female – young and old – feel at ease in his presence. He would kindly lean into you, he would then gently lay his head in your lap and nudge your arm for more pats. He could also just sit there, quietly patient, while puppies jumped all over him and pulled on his ears.. or while busy toddlers wrapped their arms round his neck and hugged his kind face. Always tolerant of all creatures, he exemplified the term "rock-solid temperament".
At 9 years of age Bandit became sterile and so we regretfully let him move to Doug and Joan Allen's home, where he remained until his very last day, as a treasured family pet.. and the constant companion of Smokey (Ch Kyon's no Smoke without Fire).
Then in August I got a sad email from Joan, advising us that Bandit had suddenly become desperately ill with acute and terminal liver disease. He had therefore gently been let go. As Joan explained:
"Bandit had been off his food for a few weeks, which was most unlike him; he was always ready for his food and especially his treats. We tried hand feeding him, to no avail – and we didn't want to put him through the process of going down and down; we wanted to remember him the way he was, so full of life.
I stroked his head, as he left us. I just kept saying; "I'm sorry Bandit". It broke my heart the way he looked at me, just writing this brings tears to my eyes…
We called Bandit our gentle giant… "
Thank you Doug and Joan, for loving Bandit with all your heart.
Bandit is fondly remembered and sadly missed by all who knew him, but especially so by Karin Klouman and Wally Barr, the Barr-Klouman family, as well as by Doug and Joan Allen… And more than we can probably fully understand, Bandit is missed by his soul-mate; Smokey….
It brings us great comfort to know that Bandit continues to live on, through his outstanding offspring and now through his many grandchildren and great-grandchildren.
Badit's sire was am ch belgold the cotton bowl. his dam was ch kyon's lucy in the sky (OD)