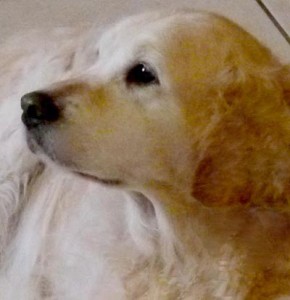 Late tonight we sadly made the most difficult decision to let our sweet Meg ( Kyon's Time Flashes By) go to sleep- for ever – and so the matriarch of the the highly successful "flash-line" is now no more. We rushed Meg into the closest animal clinic this late afternoon- and our vet employed all efforts to save her life. I held Meg while she was put on intravenous fluid, plus given pain medication to ease her abdominal discomfort – however it was sadly all to no avail. I just got off the phone with our veterinarian, who explained that Meg was in acute pain and would likely die over-night, unless we decided to ease her passing now– and so I sadly gave my consent to end her suffering. This is, after all, the final gift we can give our dogs; a gentle passing- surrounded by loving concern.
I am sitting here in disbelief – just 4 days ago Meg appeared robustly healthy and well. Then 3 days ago she started picking at her food and did some minor vomiting. However, even yesterday she ate half of her meal… and so we expected that she would fully recover. Even earlier today Meg was walking around, going outside to briefly exercise- and drinking water. Then this afternoon she suddenly refused all food- and at that time I knew she was now in serious trouble- since she always just LOVED to eat. That she is now already gone, so soon thereafter, is almost impossible to comprehend: She did not have the typical steady decline that one would expect from an old dog well into her 14th year– and so I was totally unprepared for loosing her. I am writing this through a veil of tears.
Meg had more heart than any dog we have known… and that this valiant heart has stopped beating was something we were not quite prepared for. Of course we knew she was an old dog, and of course we know old dogs eventually pass away- but Meg had passed her 'senior wellness blood tests' with flying colours just 2 weeks ago. Up until this week she seemed robustly healthy and well, not like the very old girl she was, at all… unfortunately,however, she was actually nearing the end of her life; it was just that WE did not fully realize this. If there is any comfort in her passing, it is that she only had one day of acute ill health in her whole life.
Meg was never supposed to be our dog. Rather she was returned to us after her co-owner tragically passed away. She had never left his side– and was forever present– to ease both her owners and the rest of the whole Thompson family's distress, during this most difficult time. When she was returned to us we were supposed to re-home her, however, we instead fell in love with Meg. She had incredible character, made us laugh with her strong- willed and most vocal tendencies, she was an exceptionally keen retriever and always loved swimming– and most of all she was a wonderful dam who gave us 3 lovely litters… and she was exceedingly gentle with ALL babies, not only her own pups. After retirement from maternal duties at age 6 she has been our beloved house-pet for many, many years now, and thus an integral part of the very fabric of our lives.
Meg was deeply loved and is sadly missed by the whole Barr-Klouman clan. to see more photos of Meg please visit our Facebook: https://www.facebook.com/media/set/?set=a.10151499862988106.1073741832.177264048105&type=3