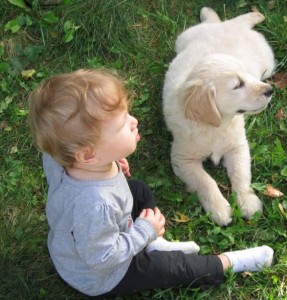 Kyon Kennels is a family-run business. We have happily raised 6 children on our farm. All Barr-Klouman family members are engaged in Kyon Kennels' affairs, both with our dog and pet boarding or with our puppies.
Our clients come from all over southern Ontario, across Canada and the United States. We offer pet and family friendly kennels for boarding as well as other services for your pets and dogs while boarding with us. We also breed British-type Golden Retrievers and Norwegian Buhunds.
Pet/Dog Boarding since 1978
Kyon Kennels began boarding dogs from our own breeding program in 1978. Since then Kyon Kennels has provided a friendly, positive atmosphere for all our clients – both human and furry or feathery … or on occasion lizardy. We're proud to have a loyal clientele throughout the G.T.A., including Toronto, as well as locally (Shelburne, Orangeville, Alliston and beyond).
You can read more about our convenient, friendly, stress-free pet boarding.
Breeders of Golden Retrievers / Norwegian Buhunds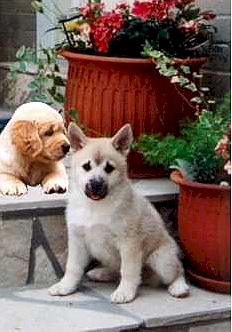 Since 1970, we've bred British-type Golden Retrievers ranging in colour from light cream to lustrous gold. Our Golden Retrievers are known as outstanding family pets with a gentle and loving disposition and a keen retrieving desire. Most Kyon Golden Retrievers live well into the teens because longevity has been a focus of the Kyon breeding strategy. Kyon Golden Retrievers are frequent winners in conformation shows and obedience/agility trials. Many are also used for recreational hunting.
Kyon Kennels introduced Norwegian Buhunds to Canada in 1989. Buhunds, a rare and very ancient breed of highly instinctive dogs make a loyal and friendly pet, as well as a great herding dog. Kyon Kennels has bred multiple Buhund champions, high level obedience workers and master agility dogs as well as steady reliable working & herding dogs.
Committed to excellence in breeding, we are life-time members of the Canadian Kennel Club (CKC). We are also members of the Golden Retriever Club of Canada (GRCC).
---
Located near Orangeville and the GTA in Ontario
You can find us on the beautiful Niagara Escarpment near Shelburne, Orangeville and Alliston Ontario. Kyon Kennels has served clients all over southern Ontario, well as throughout Canada and the United States .
Part of our community
Over the years Kyon Kennels has been an active part of the local community. We provide important services locally, support neighbouring business and strongly support local charities with our services.
Many local youth from the surrounding communities began their work life at Kyon Kennels. Kennel staffers have gone on to become veterinarians, dog breeders, animal health technicians and dog-groomers. We would like to thank our loyal staff and customers for making Kyon Kennels an enjoyable place to work and live.
If you'd like to learn more about our pet and dog boarding services or our Breeding program we invite you to:
---
The Kyon Kennels story and our family
Wally and Karin (co-owners of Kyon Kennels) met at the foot of Mount Kilimanjaro in Tanzania in 1973 and they were married in Norway in 1974. Karin by this time had bred her first litter of Golden Retrievers. And so began KYON KENNELS.
Karin Klouman
Karin has a wealth of experience with dogs of all kinds. She has trained dogs since she was a teenager, taught all-breed obedience classes and advised and trained numerous pet owners with specific dog behaviour problems.
Karin has taken dogs right through to the top level in obedience (utility) and together- as a team- Karin and her dogs have achieved High In Trials. Karin has an abiding love for all canines and her philosophy of training involves using positive methods, building trust, setting clear limits, while transmitting calm and assertive energy to her many canine charges.
With her educational back-ground in the animal sciences (as an agronomist) Karin is uniquely positioned to understand the complexities of dog breeding. Her university continuing education courses in bio-science and genetics has helped her apply theoretical information to her practical and intuitive knowledge of breeding British style Golden Retrievers and Norwegian Buhunds.
---
Wally Barr
Wally is a Bachelor of Animal Science graduate from the University of Guelph. He has an in-depth knowledge of genetics, nutrition and animal husbandry. His childhood on the farm, his 4H involvement as a teenager, his university education and finally his work as an animal science technician at the agricultural university in Norway makes him uniquely suited to looking after all the various animals in our care.
Wally applies his wide range of experience as well as his educational background successfully to our kennel-operation, where the dogs- and all the other pets in our care- are treated with kindness and compassion . He knows the importance of all dogs being kept in prime condition, fed only the best of dog foods and always kept well exercised for a stress-free environment.
Being a true naturalist, Wally loves taking our own dogs — as well as our many boarders — hiking for miles through our large acreage of fields and bush.
---
Sean Barr-Klouman
In 2010 Sean decided to join the Kyon family business full-time since he shares the same passion as his mother for breeding and training dogs. Sean was only 5 years old when he was given his first Golden Retriever and started training her. This female went on to become very influential in many pedigrees in North America and most specifically she is behind many, if not most, of the Kyon Golden Retrievers of today. Her name was Faith (ch Kyon's Never Ending Story) and she was Sean's early beginnings in the world of Golden Retrievers.
Before joining Kyon, Sean- after completing his university education (Bachelor degree, in International development)- worked in a managerial position for Cargill. He has expert knowledge of both animal husbandry and animal behaviour from working with both cows and dogs as a child, to cows as an adult, and then back to working with his first love of dogs again. Sean has a true passion for the natural instincts of animals and their associations with people.
Sean is joined by his wife Adelle, and their two young children, Espen and Lilly who love the country lifestyle with dogs and puppies.